Biography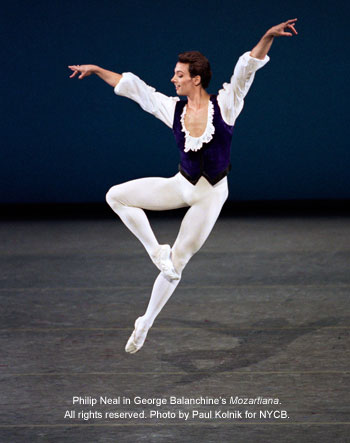 Philip Neal the Dancer
After a 23-year tenure with New York City Ballet, 17 years as a Principal Dancer, Philip Neal was invited by The George Balanchine Trust and The Jerome Robbins Rights Trust to become a Repetiteur, staging the ballets of both legendary choreographers throughout the world. He has also successfully embarked on choreographic ventures, having crafted five original commissions for Richmond Ballet and participated in both the New York Choreographic Institute and the National Choreographers Initiative. Neal is a guest instructor for numerous international dance companies and schools, including Joffrey Ballet, Miami City Ballet, Pacific Northwest Ballet and the School of American Ballet. He is a dance panelist/mentor for National YoungArts Organization, and an adjudicator/master teacher for Youth America Grand Prix. In addition, from 2010-2013, he directed developmental efforts, fundraising of major gifts, Board Trustee recruitment and special events in Palm Beach County on behalf of Miami City Ballet. In 2015, Neal was appointed the Artistic Director of Next Generation Ballet (NGB) & Dance Dean of the Patel Conservatory at the Straz Center in Tampa FL, one the largest performing arts center in the United States. Neal directs the award winning pre-professional training division (the official dance company of the Straz Center), producing full-scale productions such as The Nutcracker, Giselle and Don Quixote, while simultaneously overseeing the open enrollment academy of nearly 250 students. Alumni of NBG have graduated to prestigious academies and companies such as The School of American Ballet, The Royal Ballet School, San Francisco Ballet School, Pacific Northwest Ballet School, Houston Ballet Academy, New York City Ballet, Boston Ballet, Miami City Ballet, Stuttgart Ballet and The Royal Danish Ballet.
Neal began his dance training at age 11 at the School of Richmond Ballet, where he was recognized by Edward Villella and offered a summer scholarship to the School of American Ballet, the official school of New York City Ballet. In 1985, Neal won a silver medal in the International Prix de Lausanne ballet competition. Neal graduated magna cum laude from St. Paul's School in 1986 and was named a Presidential Scholar of the Arts by the National Foundation for Advancement in the Arts, as part of that honor he performed at the Kennedy Center in Washington D.C. In addition to his training in New York and Richmond, Philip Neal studied at the Royal Danish Ballet School in Copenhagen, Denmark. Neal joined New York City Ballet's corps de ballet in 1987. In the spring of 1991, he was promoted to the rank of soloist, and was promoted to the rank of principal dancer during the 1992-1993 Season.
Neal was privileged during his career to have performed in George Balanchine's finest works, including
Allegro Brillante
,
Apollo
,
Chaconne
,
The Nutcracker
,
Diamonds
from
Jewels
,
Divertimento No. 15
,
A Midsummer Night's Dream
,
Mozartiana
,
Serenade
,
Slaughter on Tenth Avenue
,
Swan Lake
,
Tschaikovsky Pas de Deux
,
Tschaikovsky Piano Concerto No. 2
,
Western Symphony
, and
Who Cares?
Neal was featured in Jerome Robbins'
Brandenburg
,
Dances at a Gathering
,
The Four Seasons
,
Glass Pieces
,
The Goldberg Variations
,
I'm Old Fashioned
, and
In G Major
. Other choreographic works he has performed are Jerome Robbins' and Twyla Tharp's
Brahms/Handel
; Peter Martins'
Fearful Symmetries
,
Les Gentilhommes
,
The Sleeping Beauty (Prince Désiré)
,
Songs of the Auvergne
, and
The Waltz Project
; Ulysses Dove's
Red Angels
; Boris Eifman's
Musagéte
; and Richard Tanner's
Ancient Airs and Dances
.
In 2002, Neal appeared in the nationally televised Live From Lincoln Center broadcast "New York City Ballet's Diamond Project: Ten Years of New Choreography" on PBS, dancing in
Ancient Airs and Dances
. In May of 2004 he appeared in the Live From Lincoln Center broadcast of "Lincoln Center Celebrates Balanchine 100," dancing in
Liebeslieder Walzer
.
Neal performed with New York City Ballet at Lincoln Center's David H. Koch Theater, at their summer venue at the Saratoga Performing Arts Center and on tour in Athens, Melbourne, Copenhagen, London, Paris, and Tokyo. He was honored to have been an invited guest performer with the Kirov Ballet in St. Petersburg, Russia, at the famed Maryinsky Theater, as well as with the Paris Opera Ballet at the Garnier Palace.
contact me